Summary: As its name says, X-ART is one nice, artistic site. It is an art-core, full of pure sensuality. Instead of just ordinary pornography you can see on every similar site, there are more romantic, glamorous and perfectly captured scenes. Stunning girls are both from America and Europe and this brilliant team include famous porn stars and experienced models, just as amateurs and girls next door. If you like some of great masturbation, threesome, solo, lesbian, orgies or BDSM scenes on this wonderful site, there are 12 downloading options to keep them for your own pleasure. This site is excellent destination for those who like artistic, but still explicit sex. So, it is really decadent, but still with all erotic intensity you can ask for.
At the beginning, this was site with just gorgeous soft core photos, but it developed to something much better. The official start was seven years ago and founders were Brigham and Colette Field. Today, this well-designed site has on option for visitors to have a small preview of recent updates in very first moment they come to this place. Also, it has wonderful descriptions for each video. X-ART has also a sister site and its name is Colette.com. We could say that our first impression on X-ART is all about great professionalism. The quality of photography is on highest level and the filming is very nice. There is great camera and lightning also, just as musical background which makes the whole thing wrapped very well. The sound is fine and natural and you won't find so many girls that fake screaming here.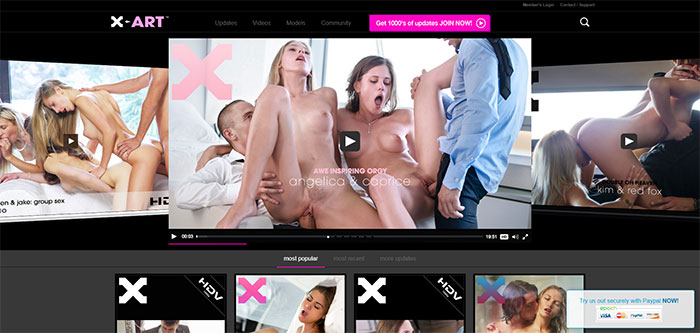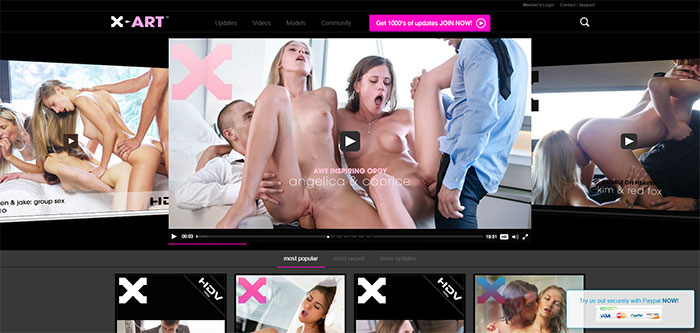 The new, fresh content is frequently added, on weekly or even daily basis. You can expect several new unforgettable videos and galleries each week. The sexy library is consisted of more than 900 videos. If you want, you can download your favorite scenes in 4K Ultra HD resolution. Every member has 12 different options for download – four options each for MP4, MAC and PC and possibility to choose from smallest to full HD resolution. If you prefer older content, there will be less options for download these scenes – just five. But, we can guarantee you will have outstanding cinematic experience with every single scene every time you log in. Of course, there is possibility for online streaming, too.
Don't forget about those sexy photos – more than 800 photo sets are available on this marvelous site. Every gallery is consisted from 45 high resolution photos in average. It is interesting to notice dressed models at the beginning of each photo set just in case you want to check how pretty they are with their clothes on. All of the photos are available for downloading as zip files – all you have to do is choose among three image sizes (small, medium and large). If you prefer online watching, that is fine, too.
Let us just add that all the content can be sorted by few criteria. Don't worry about downloading because there is no limit. The level of interactivity is pretty good, which is very important. You can rate and comment on videos or send private messages to all models. One more interesting thing on this site is "behind the scenes" part. This is actually a blog and it is made of photos and texts. It is quite fun and almost as interesting to follow as videos on X-ART.
These horny girls are very young. Majority of them is 18 to early 20's and all of them are flawless and natural. They look like very fit and extremely attractive film stars. The index is consisted of more than 225 super sweet models. You can sort them by newness, age, name or popularity. The sex they are having with their partners is often gentle and loving, with lot of kissing. It is rarely forcible and there is almost no slapping.
Quality: Beautiful, hand-picked models in hot combination with glam-core – this is perfect duo for high level of quality. Filming, photography, sound, lightning, post-production – those are things with huge importance for one site's quality and XART has all of them. We could say this porn site is made for those who are truly in love with great quality.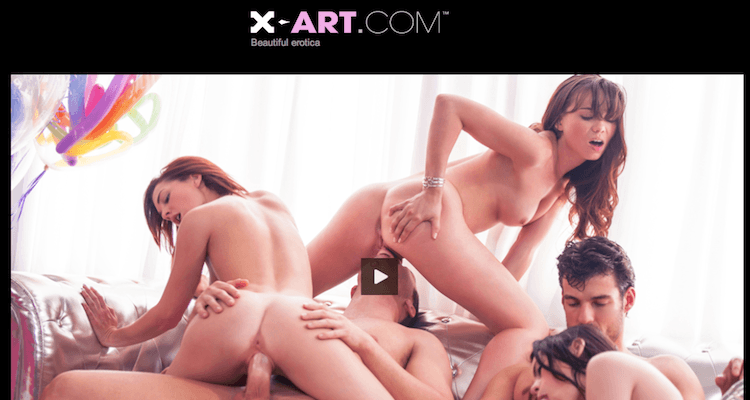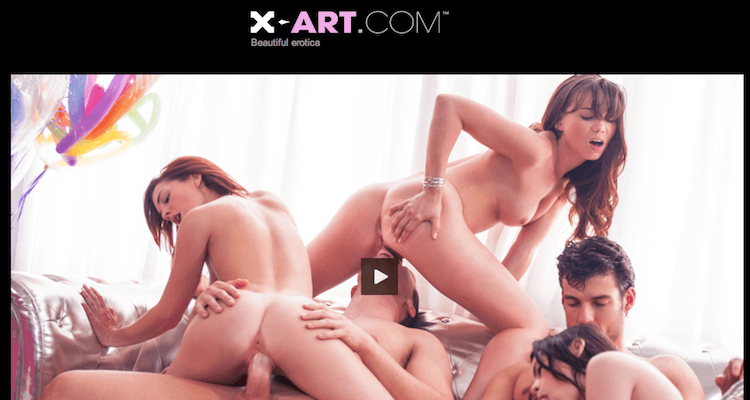 Content: XART has nice library with more than 900 scenes and 800 photo-sets, each with nearly 50 photos in average. Maybe there are no huge number of videos and photos, but the quality is always more important than quantity, isn't it? Threesome, orgies, lesbian, anal, masturbation…You can expect these niches and many more on X-ART. Of course, all of them have the touch of glam and romantic.
Pros: This is dreamy porn destination with very neat design and decadent scenes/photos. Very professional photography, impressive light and sound, lovely and young girls for affordable membership, with no technical problems – this is what you can get on X-ART.
Cons: Maybe videos and photos should be separated and this will be less confusing for members. Also, when talking about girls, we could say there is probably no enough variety in their body size and race to satisfy all tastes. Navigation could be easier and, in our opinion, there is no need for so much scrolling.
Pricing and bonus: The membership is not expensive – for monthly membership you should pay 24,95$. If you want annual membership, this will cost you 99,95$. After three rebills you will get discount of 5$. Two more important things – you can be sure there are no cross-sales on X-ART and there is long time before site timeout. Bonus is here also – with this membership you can get an access to Colette.com.
Conclusion: We could say that X-ART is a magical place where porn meets art. There are super cute European and American girls in all kinds of gentle, but still intense action. Watch them either playing solo or with their partners in bed. Don't miss the opportunity to enjoy in pure cinematic experience for low amount of money. X-ART and Colette.com together definitely deserve all of your attention.